I ventured into the realm of cosplay for a few years and produced some pretty awesome looks. I have plans for some other looks in the future, but nothing definite. In the mean time, here is a home for my gallery of cosplays!
Gordon Freeman & Alyx Vance from Half-Life
I created my entire HEV suit and my cousin's Alyx Vance cosplay for Pax Prime 2014. Check out my YouTube for tons of in depth videos on this process, as well as my fan page for more photos. This project was huge and took upwards of 100 hours to complete both looks.
Team Fortress 2 Heavy & Engineer
I created this cosplay along with the Engineer for PAX Prime 2013. Check out my YouTube for in depth videos on how I made this look. For more photos and bigger sizes, check out my Facebook fan page. The creation of the gun took probably about 20+ hours from start to finish and is primarily made out of PVC pipes and PVC connectors, wood, a bucket, and metal. If you have any questions, please contact me! I would love to give advice. Thanks to my friend Alexa for the photos and my uncle for helping out with the gun!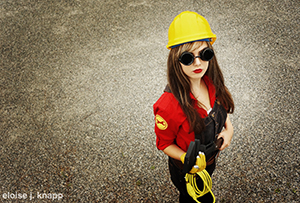 The Comedian & silk spectre from The Watchmen
I created my costume and designed the waist cinch and dress for the Silk Spectre for my friend for Emerald City Comic Con 2013. Photos by my friend Alexa Rae Photography.